Day 2
We woke up and are a wonderful breakfast at the hotel. We grabbed a few loaves of bread and jam packets for the road and we drove to St. Michel.
When we had pulled into Avranches the night before we were in need of gas, but decided to wait until the morning.. We forgot that it was Sunday and nothing would be open. With Blake driving we headed out to St. Michel with little gas in the tank.
St. Michel
This place was amazing. It is this cute island with shops, hotels and a massive cathedral.
The four of us heading into St. Michel
The view from afar
Blake, Jen and I in the gates of St. Michel
Jen and I
Gary contemplating life..
I love this picture of Jen. She was sitting outside a door on the tops of St. Michel streets
Touring this place was amusing. People actually live and worship out there. You could tell this place was just full of secret tunnels and passage ways. It was amazing. Blake and Gary were like teenage kids.. So eager to explore every hall, door and opening they possibly could. It was so comical!!
They had these cute water things every where.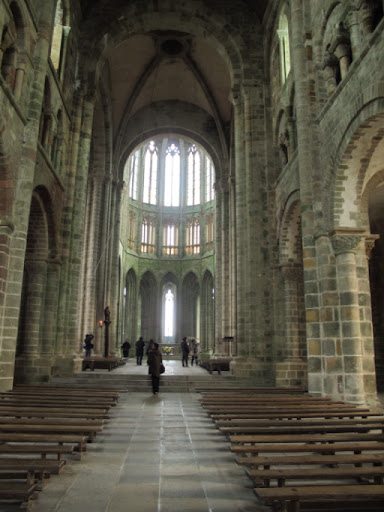 The structures and lighting in these places are magnificent.
Oh how I wished I had a tripod and hours of time to take pictures...
I came around this corner to see this wonderful garden. It looked so amazing on the corners of this cathedral. It is simply remarkable how they utilize their space and needs.
This was in the center of the cathedral. My guess was it was used to bring up water. It was funny to see
Gary get in it and pretend he was a mouse. See below for the picture.
Gary in jail...
Blake and a spectacular view.
It would not be a typical tourist spot without a gift shop at the end.. Jen and Blake ready for a sword fight.
This picture makes me laugh so hard.. Kind of bad, more just so funny. This gives a inkling if insight to how Gary and Blake were throughout the whole trip and tour.. There are plenty more just like it.
Gary in the wheel!
We ate lunch at a small cafe style place.. It was pretty good food, but the lady was not friendly.. We found cherry coke, which was a shocker.. So we all bought one and enjoyed!!
Jen enjoying her fruit tart
St Michel was a beautiful tour. We had some good laughs, and made some tourist laugh.
After we left we had the realization that we had no Euro's, no cards that worked in their gas pumps and NO GAS.. Our gas light had been on since the night before. Gary was stressed, Blake wasn't worried at all, and Jen and I just kept praying we didn't run out of gas. Gary actually was sick to his stomach he was so worried. We jumped on the freeway and about 40 kilometer later found a gas station that was open! It was a relief!
Gas light on..
We got a smile out of Blake as he watched Gary worry about running out of gas.
Finally some petrol as Gary would say.
Jen on top of Panda at the gas station.. People were giving us weird looks and there may have been a small dent afterwards but so funny!
We continued our travel into downtown Paris. It started to rain and the traffic was bad, but Blake did a good job driving. Thank you again GPS. We headed to our one and only booked hotel for the whole trip. It was in a tiny street and I think we drove around the block, hotel and area at least three times, before finally parking several blocks away and hauling our luggage there. We were lucky to even find the parking spot we did. The hotel was definitely not as nice as it had been advertised on the Internet, but it worked and it slept four.
After we got back in the car... (had been in the car most the day) we headed to the airport to return the rental car. Again another funny adventure. Thank you GPS for getting us there, even though several times you thought we were on the right, road, but then would say.. RECALCULATING..
On the train ride back at 11:00 pm we decided to make a detour to the Eiffel Tour to snap a few pics at night..
We emerged the train station to rain coming down, but we were in Paris and we didn't seem to mind.
Jen and Blake
Gary and I
Such a cute shot of Jen
It wouldn't be an adventure without some jumping photos.. What can I say..They are my favorite
Picturesque...
Gary and I jumping
The Eiffel Tower amazes me.. It is so pretty and it so tall. Truly a work of art!
Jen and I jumping.. Too funny
Never a dull moment and always having fun.
It was a great day and we were exhausted by the time we got back to the hotel room.
That night Gary took some ibuprofen pm and nyquil. I was peacefully sleeping in bed when all the sudden the hotel door opens and Gary is poking his head outside the room. He was asking where he was.. After Blake told him, he came and crawled in my twin bed with me and fell asleep.. So bizarre right.. Half asleep and being under the covers and Gary on top I was pinned.. After a bit I woke up dying of heat and had to get up. Me moving woke up Gary.. He sits up and asks " what are you doing.. I had no idea you were back there". Back there... I was in bed the whole time.. So I got up and moved to Gary's bed. The following morning we laughed so hard I was crying.. oh GARY!